Dental Implants vs. Traditional Dentures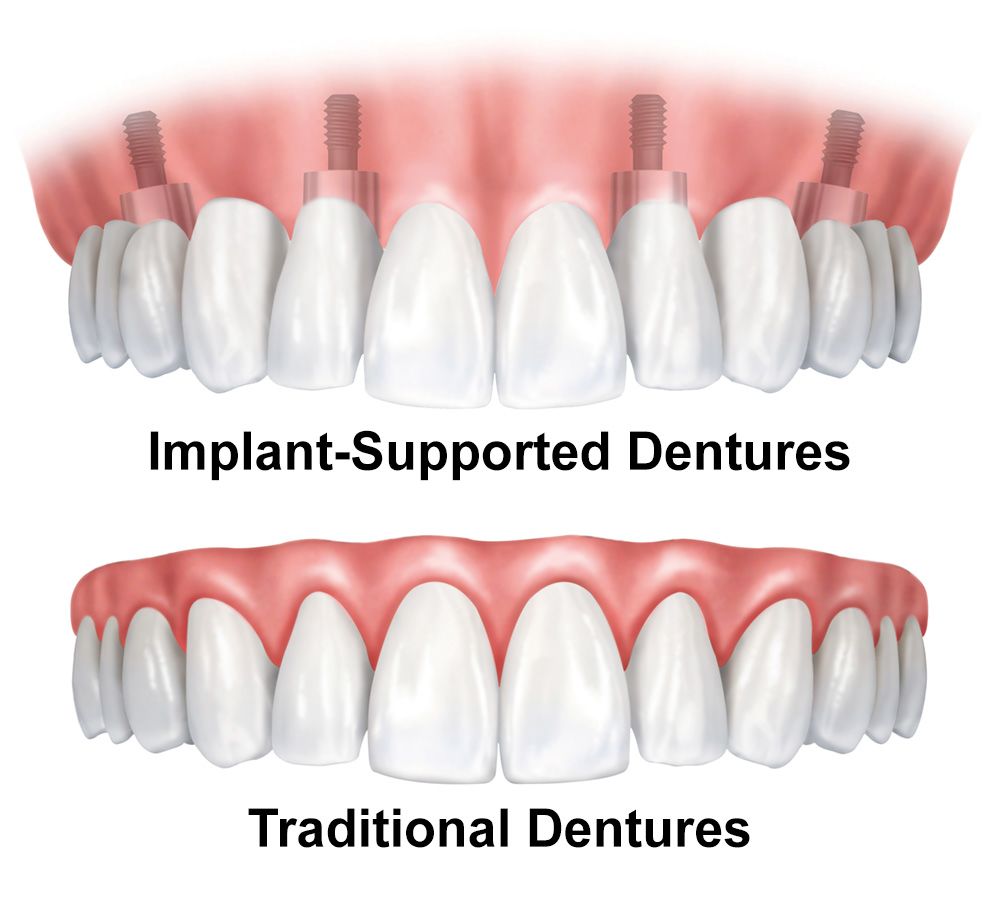 Tooth loss significantly impacts oral health, as well as the appearance of the smile. To rebuild the smile after substantial tooth loss, two of the most common dental treatments are dentures and dental implants. Dentures sit over the gums to replace missing teeth, while dental implants fuse with the jaw to replace the roots of missing teeth and support dental restorations.
Dr. Louis Buono understands the unique benefits that each of these missing teeth treatments has to offer. He helps his Long Island, NY, patients consider the differences regarding dental implants vs. dentures, so that they can choose the dental treatment that is right for them.
Traditional Dentures
Traditional dentures are removable restorations that replace a small group of missing teeth or up to an entire arch of missing teeth. Dentures are made up of an acrylic base that resembles the gumline, and porcelain or resin restorations that replicate the natural teeth. Dentures traditionally sit over the gumline and create a suction seal that holds the restoration in place so that the patient can bite, chew, and speak comfortably and securely. Dentures are removed and cleaned at the end of the day to prevent bacteria buildup and preserve their attractive appearance.
Benefits of Dentures
Film, television, and commercials love to make jokes about loose and ill-fitting dentures, but today's dentures fit more comfortably and securely than many would think. Dentures are custom fit to the patient's jaw and gumline, so they stay in place pretty well, especially with the help of denture adhesive. Besides a comfortable fit, our Long Island patients should consider these benefits of dentures:
Dentures treatment is non-invasive
Dentures treatment can be complete in a matter of weeks
Traditional dentures are more affordable than dental implants
Dental Implants
Dental implants are small titanium screws that are surgically implanted into the jaw. As the tissues of the jaw heal, they fuse with the implants to create a solid anchor for dental restorations, including dental crowns, dental bridges, and dentures. Dental implants support these restorations so they become a fixed part of the smile, meaning they won't shift or slip out of place.
Dental implant treatment takes place in three stages (implant surgery, abutment placement, and restoration placement), so it takes many months for treatment to be complete. However, once implants are secure, they should last a lifetime. Because implants can support a full range of dental restorations, they are suitable for any degree of tooth loss - from just a single missing tooth up to an entire arch of missing teeth.
Benefits of Dental Implants
Just like traditional dentures, dental implants restore oral functions and improve the appearance of the smile. And while dentures do fit pretty securely, the strength and stability provided by dental implants is unmatched. Additionally, dental implants offer these unique benefits:
Dental implants stimulate the jaw to prevent bone degeneration
Dental implants can be cared for like the natural teeth
Dental implants stay in place, allowing patients to feel completely confident in oral functions and aesthetics
Choosing the Most Appropriate Treatment
While each offers their own benefits, dentures and dental implants are both appropriate treatments for tooth loss. To decide which is right for them, our Long Island patients must consider factors such as oral health, their treatment budget, and personal preference. Dr. Buono can help patients take all of these things into consideration and personalize a treatment plan that is most appropriate for their unique needs and desires.
Contact Dr. Louis Buono
If you have suffered tooth loss, Dr. Louis Buono can rebuild the strength, function, and beauty of your smile. To find out which of our restorative dentistry treatments may be right for you, contact us online, or call (516) 294-0378 to schedule an appointment.
Related to This