How Can a Dental Bridge Enhance My Smile?
One restorative dentistry treatment option for closing the gaps caused by missing teeth is a dental bridge. The manufactured tooth (pontic) is held firmly in place by abutment teeth on either side of the prosthetic. Louis J. Buono, DDS, offers dental bridges at his Long Island, NY, dental practice. Dr. Buono is a proud member of the Academy of General Dentistry and American Academy of Cosmetic Dentistry and has more than 25 years of professional experience. Once your dental bridge is placed, you can enjoy improved chewing function and a more balanced, attractive smile.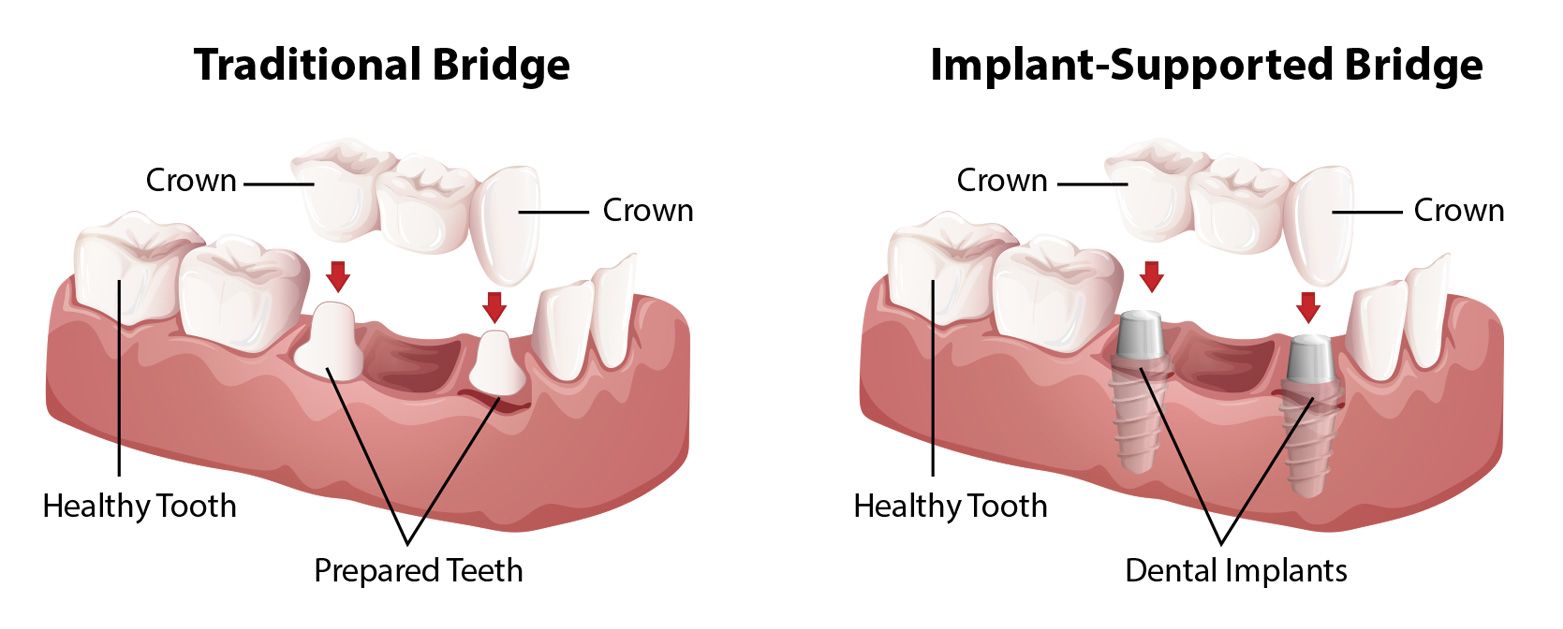 Traditional vs. Implant-supported
During your consultation with Dr. Buono at our Long Island dental practice, the difference between traditional and implant-supported bridges will be discussed, so that you are well informed regarding both treatment options.
Traditional Bridges
A traditional bridge is a popular option for replacing one or multiple teeth. The prosthetic tooth or teeth are held in place by dental crowns (strong caps that are cemented onto natural teeth). This treatment may be ideal if you have strong, healthy teeth that neighbor either side of your gap. This restorative option has the benefit of being relatively quick to perform. The treatment generally takes a few weeks to complete. Traditional dental bridges are less expensive than the implant-supported bridge option. A well-maintained dental bridge can last 15 years or more. Traditional bridges are crafted to look and feel like natural teeth.
Implant-supported Bridges
Implant-supported bridges are more expensive and have a longer treatment timeline. Dental implants offer many important benefits that traditional bridges do not, however. Implant-supported bridges are anchored directly to the jawbone by implant posts (surgical-grade titanium screws). This feature adds greater stability than traditional bridges. The posts also stimulate jawbone tissue growth, meaning patients can avoid the negative effects of jawbone recession.
What Is the Treatment Timeline?
Traditional Bridges
Before your traditional bridge can be manufactured, the natural teeth on either side of your gap will need to be prepared at our office. This step involves removing a small amount of enamel from both teeth so that your dental crowns (which support the bridge) have room to be placed. Your tooth will be numbed using a local anesthetic before Dr. Buono trims your abutment teeth. Then, an impression will be made of your teeth. Dr. Buono may place temporary dental crowns for a temporary bridge while you wait for your new dental bridge to be manufactured. Once your bridge arrives (typically after one or two weeks), you will visit our office again. Dr. Buono will place your bridge and examine how snuggly it fits. If the bridge meets the required specifications, he will attach it to your prepared teeth using a strong bonding material.
Implant-supported Bridges
Dr. Buono works with a local, trusted oral surgeon to place dental implant posts. The surgical procedure involves making a small incision in the gum tissue then placing one or more titanium screws into the jaw. Recovery from this first step takes three to six months. Once your gums have healed, Dr. Buono will place a small metal piece called an abutment onto your implant. The abutment connects your dental implant to your dental bridge. Once your gum tissue has healed around the abutment, your dental bridge can then be attached. The timeline for an implant-supported bridge is usually several months.
The Long-lasting Benefits of a Dental Bridge
Both traditional and implant-supported bridge treatments offer the following benefits:
Prevention of shifting teeth
Restored oral function
More balanced bite
Improved speech
Improved self confidence
Younger looking and more attractive smile
Contact Garden City Smiles Today
Both traditional and implant-supported dental bridges replace missing teeth. If you are interested in pursuing this safe and effective restorative treatment at our Long Island dental practice, schedule your free, initial consultation with Dr. Louis J. Buono today. You can contact us online or call (516) 294-0375.