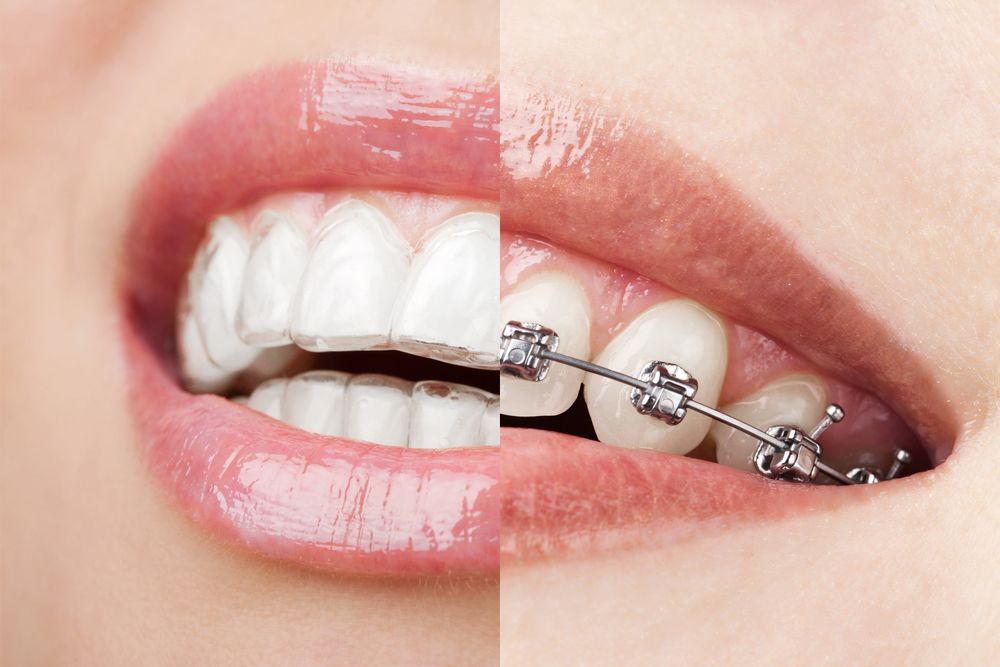 If you are looking to straighten your teeth, you have come to the right place. Dr. Louis Buono and our highly trained team of dentists serving Garden City, NY, and other Long Island communities are proud to offer traditional braces and Invisalign® treatment for misaligned teeth.
You may be wondering if metal braces are better than Invisalign or vice versa. The answers are more complicated than you may realize, and depend on the needs of the patient. Understanding the differences between Invisalign and braces may help you decide which is right for you.
Treatment Timeline
Moving teeth is a gradual process. To effectively align teeth, traditional braces can generally take one to three years to complete depending on the complexity of the case. Invisalign, on the other hand, can be completed in 18 months or sooner, depending on the severity of misalignment.
In this case, Invisalign and braces are pretty evenly matched.
Cost of Treatment
When it comes to cost, traditional metal braces are usually less expensive than Invisalign. This advantage goes to traditional braces. Invisalign and braces may be covered by insurance, so be sure to check with your provider for more information.
Dr. Buono's practice provides flexible payment plans through CareCredit. Our goal is to make top-notch orthodontic treatment affordable and accessible so you can smile proudly without breaking the bank.
Overall Effectiveness
While both options are highly effective, metal braces have a slight edge over Invisalign.
Traditional braces can treat more types of dental misalignment, including cases of severe malocclusion. Tried and true, braces will always be a sound choice for aligning teeth. Invisalign, however, is not far behind, and can treat a large percentage of patients with crooked teeth.
Appearance During Treatment
Invisalign wins this contest hands down. With translucent, removable trays, Invisalign is practically invisible, as the name suggests. Patients report that most people do not even realize when their trays are inserted. Being removable is useful for special occasions as well. Invisalign may also involve the use of buttons, which are small, tooth-colored hooks bonded to your teeth. These are temporary and also practically unnoticeable.
Metal braces are easy to see. While tooth-colored and clear braces can help minimize the appearance of brackets and wires, they are still quite noticeable.
Treatment Simplicity
Following through on orthodontic treatment can be difficult when it comes to removable trays. In this case, braces and Invisalign present different pros and cons.
With Invisalign, the aligners trays should be worn at least 22 hours a day. For some this can be easier said than done. Invisalign trays are more prone to breaking or cracking, and they can also be lost. The upside is that because they are removable, brushing and flossing is simple with Invisalign.
Braces are fixed on your teeth and cannot be removed. There is no option to take the brackets, bands, and wires off when you feel like it. Follow-up appointments to adjust the wires are all that is required to stay on schedule for alignment. Brushing and flossing can be more challenging with braces, however.
Schedule a Consultation Today
If you are interested in pursuing orthodontic treatments such as traditional braces or Invisalign, we are here to help. Take charge of your smile and give us a call today at (516) 294-0375 or go online to schedule a consultation.
Related to This